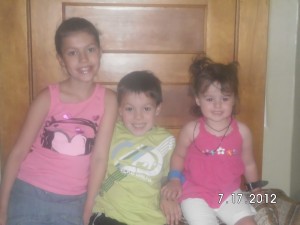 My name is Melissa and I'm a mom and freelance writer living in central MA.  I also work part time as an office manager for a literacy non-profit.  My husband Marc and I have three children together (Jessica Mary is 12, Samuel Earl is 9, and Julianna Ruth is 5), in addition to Marc's two daughters (Lillian is 16, and Sarah is 14) from his first marriage.
I started this blog back in 2008, mainly as a writer's version of a baby book for all three kids.  I've always been a writer, and found that after kids, I had a tendency to keep handing over my handwritten journals to sticky-handed toddlers for coloring.  Blogging seemed like a safer way to keep track of everything that I wanted to write.  In the past few years, as the kids have gotten a little older, I've been focusing more and more on writing.  I started working on a book about my conversion journey, and submitting articles hither and yon for publication.  But the blog is still my first love.  I love sharing this journey, being able to write honestly about the challenges and delights that go along with raising a family.
I began my part-time job in June of 2015, and joined the world of working parents.  And everything got a whole lot busier and a lot more chaotic.  Writing tends to take a backseat, because there's so much laundry and way more dishes than I think there should be.  I try to carve out time for it, and reading, and don't ever find enough.
My writing has been published on such popular websites as blogher.com and kveller.com, and I'm a contributor to the parenting website for the Worcester Telegram and Gazette, MassMoms.com.  My writing has also been featured on InterfaithFamily.com, the premier resource for supporting interfaith couples exploring Jewish life.
Want to know more?
https://www.melissaannecohen.com/interview-part-1/
https://www.melissaannecohen.com/interview-part-2/